Gill's commissions over the years have been many – they range from the highest achievers in the equestrian sport to much loved family pets. Gill works in all sizes from small to monumental in scale.
Gill has worked for many private clients – including members of The Royal Family – as well as working on a variety of corporate and architectural projects, including door furniture for Chloe boutique and sculpture for Emirates flight lounges.
Other commissions include Badminton winners Sir Wattie and Middle Road; Derby winners Rainbow Quest, Dancing Brave, and the life sized Motivator at Ascot Racecourse as well as many dogs and other animals.
Commissions are dealt with on an individual basis. If you would like to discuss a commission, or would just like some advice, please contact hesitate to contact Gill either by email at bronze@gillparker.co.uk or telephone +44 (0)7885 273 309.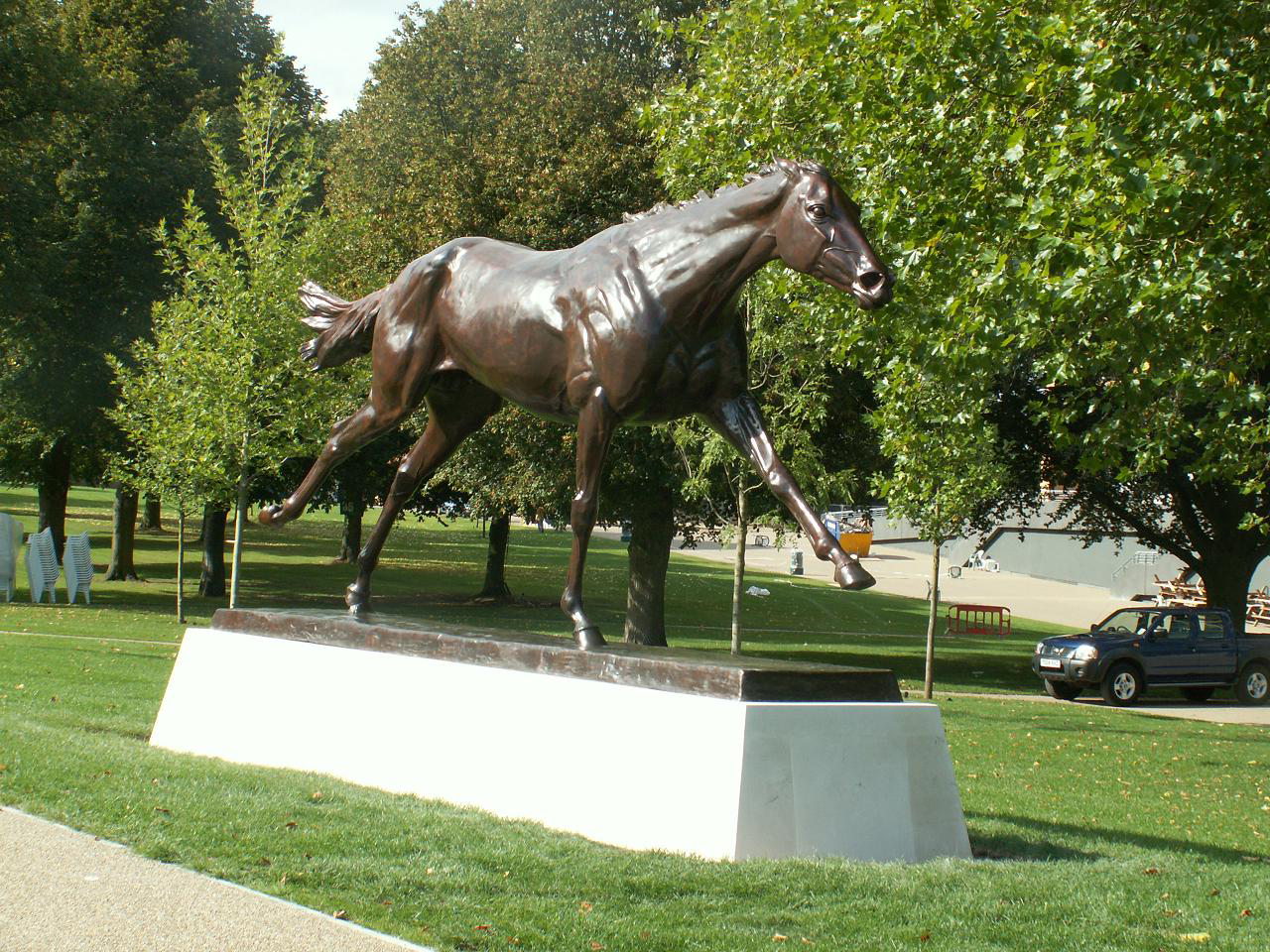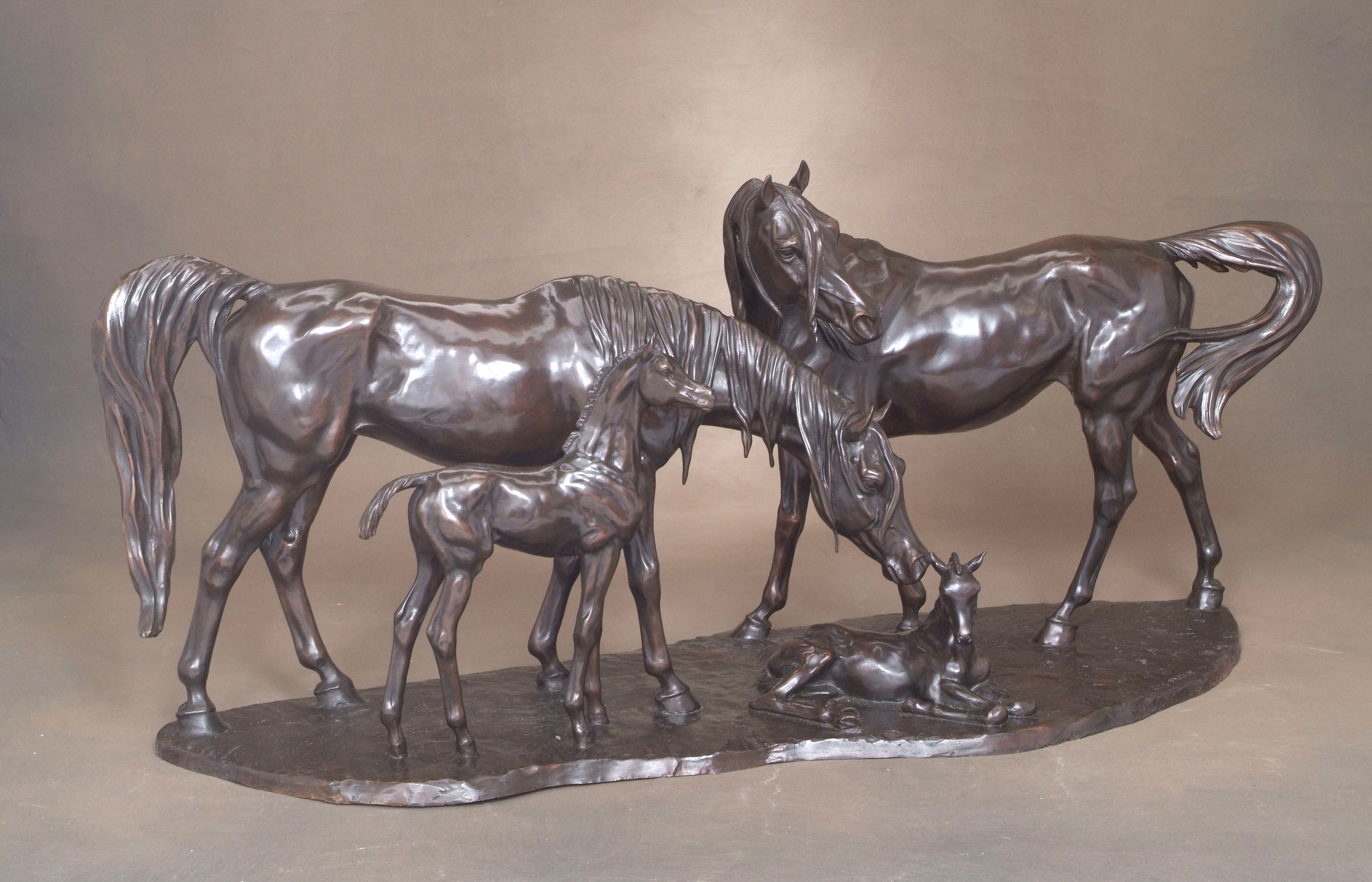 The production of a bronze
"The materials I work in are wax, clay or most often plasticine. The sculpture is built up on a wire armature and worked on until I am happy with the result.
The sculpture is then moulded in rubber; a two piece mould supported by a plaster or fibreglass 'jacket'. The inside of the mould is a space or 'negative' impression of the original sculpture. By pouring molten wax into this mould, which is allowed to harden, a hollow wax impression of the original is made. At this stage the wax is usually checked and worked on by the artist. A system of 'runners and risers' is made around the wax sculpture. This, in the later stages of the process, will enable the molten bronze to flow quickly to all the parts of the sculpture and allow the air to escape.
The whole wax 'structure' is now dipped in a runny ceramic material. As that dries the process is repeated again and again until you have something which looks like a lump of clay, the wax impression being inside. This 'mould' is baked, and the wax inside burns out (hence the name, the lost wax process) leaving a cavity where the sculpture was. It is into this that the molten bronze is poured.
Once cool, the ceramic material around the bronze is broken away to expose the sculpture. The runners and risers are cut off and the surface of the metal is restored to the artist's original work. The bronze is polished and if the original design requires it, tack (bits, reins etc.) are fabricated in bronze and added.
Patination is the process of colouring the bronze. Bronze is a metal alloy containing copper, which reacts with certain chemicals. Different chemicals and dilutions of those chemicals are built up on the heated surface of the bronze, until the desired colour is obtained. Whilst the sculpture is still hot, a wax polish is applied and when cool, it is buffed up to show the wonderful finish. Without patination, a polished bronze looks the colour of a newly minted coin.
This is a very brief explanation of a very complicated and skilled process, which hasn't changed in essence, for thousands of years."
Gill Parker, Equestrian & Wildlife Sculptor
"I consider the relationship with my casting team is paramont to the quality and integrity of the sculpture I produce.
I enjoy working with a great bunch of people, most of which, I have known and worked with for many years and some, for my entire career. These are skilled people who know how I work and the quality I require."
– Gill Parker, Equestrian & Wildlife Sculptor
Commissions include
Mrs Moss: Champion broodmare
Precocious: Unbeaten 2 year old
Habiti: European racehorse of the year 1984
Rainbow Quest: European racehorse of the year 1985
Dancing Brave: European racehorse of the year 1986
Sir Wattie: Badminton Winner 1988, Seoul Silver Medallist
Rainbow Quest II: After several successful season at Stud
Middle Road: Badminton Winner 1990
Swordmaster: Winner of four races
Dayflower: First horse trained in Dubai to win in Great Britain
Lucy: Favourite Hunter
Max: Champion Stud Dog
Poppy: Much Loved Black Ladrador
Pip: Much loved terrier
Chicks Chances: Quarter Horse, sire of many race winners
Triple Lily: Quarter Horse race winner
Saluter: Three time winner of Virginia Gold Cup,
Jack Fiddler: American Quarter Horse Association Senior Hi Point Horse1995
Indian Trail: winner of many 'coloured' horse classes
Lucks Lady Diana and Captain Leo: winners of U.K. Quarter Horse Derby
Spiningdale Araminta: Champion Show Pony - N.P.S. In-Hand Trophy
White Orchid: Champion Arabian performance mare
Life Size Heron: Stilemans Garden collection
Blue Marlin: 12' high game fish for Bermuda water front
Roe Deer and Kid: Stilemans Garden Collection
Arthur: Hunter, M.F.H. Limerick Hunt up
Fast Draw Peppy: Champion Reining Horse, Bob Mayhew up
HR Dualin Smart: Reining Q HStallion, Michael Gatt up
Bugle and Picolo: Much loved Labradors
Becky: Much loveddog
Motivator, Derby winner 2005 Life Size sculpture for Ascot racecourse.
Racing bronze: One of two special designs for 'Emirate's' flight lounges world wide
Arab Mares and Foals: One of two special designs for 'Emirate's' flight lounges world wide
'Chloe Horse'; Specially commissioned door handle for Chloe Boutique
Zoe: Much loved Main Coon
Grey Dawn: renowned race horse
Northern Dancer: renowned racehorse
Snoopy and Bali: Much loved dogs
Tungsten Strike: Race winner
Mr Boomerjac: Quarter Horse Reining Stallion
Lil Ruff Rider: Quarter Horse Reining Stallion
Smarty Pep Whiskey: Quarter Horse reining Stallion
Tamargin: Race Winner
Dooey: Chesapeake Bay Retriever
Hello Sanctos: 2012 Olympics Gold Medal Winner
Hangten Shiner and Roger Brazeau: Reining Hall of Fame member
Pair of Giant Galapagos Tortoises: For Woburn Abbey
Scott: A Labradoodle
Oscar: German Shepherd portrait
Tahr Mountain Goat: Life size portrait for New Zealand
Boris: Chimpanzee at Chester Zoo
EAD 5 Urban sculptures: Life sized portrait public sculpture for Abu Dhabi
Dugong and Calf
Arabian Oryx
Hawksbill Turtle
Greater Flamingos (Pair)
Saker Falcon
Dillon: Retired Event Horse
Trophies include
Cheveley Park Stud Sun Chariot Stakes, Newmarket.
Tattershalls Polo Trophy, Saratoga , N.Y.
Loewe Trophy, Guards Polo Club, Windsor.
P.P.O.A. Princess Royal Trophy.
N.P.S. In-hand Trophy
Juddmonte International Stakes, York. (Gr. 1)
Trafalgar House Supreme Novice Hurdle, Cheltenham.
Bonus Print Stayers Hurdle, Cheltenham.
Precocious Stakes, Sandown.
Meon Valley Stud Fillies Mile (Gr.1)
Bronzes owned by people of note...
Either gifted, purchased or commissioned.

Sheik Mohamed
Jeremy Tree
Sheik Khalid Abdullah
Lord and Lady Baden-Powell
Pierce Brosnan
Noel Edmunds
Frank Sinatra
Margaret Thatcher
Richard Dunwoody
Pat Eddery
Anthony Andrews
Ian Stark
John Dunlop
Henrietta, Duchess of Bedford
Lord and Lady Russell
Mr and Mrs Seb Coe
HM The Queen
Lord Harris, Lord Kirkham
Duke of Bedford
Dubai Royal family
Duke and Duchess of Cambridge